The Lucas County Canine Care & Control is on track to make 2016 a record-setting year.
The number of dogs killed at the shelter through October this year is well below the same period in 2015, and staff expects the number of dogs available for adoption to hit triple digits for the first time in history yet this week.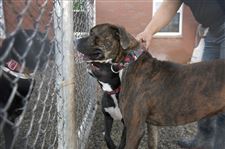 "We'll have over 100 available [today]," said Jodi Harding, interim director. "We've got about 160 dogs in the building now, so about 60 percent of them will be up for adoption."
Using statistics from January through October, the total number of dogs taken in this year is only slightly less at 2,832 compared to 2,877 during the same period in 2015. But the number of dogs killed for medical or behavioral reasons has fallen significantly from 853 in 2015 to 610 this year, a drop of 243 dogs or 28.5 percent.
■ To view dogs for adoption and The Blade's daily dog log, visit ToledoBlade.com/Dogs-for-Adoption
"They are really working very, very hard," said Tina Skeldon Wozniak, president of the Lucas County commissioners. "We're so proud of their efforts and their work. Their mission is very clear: They want dogs to find homes."
Barb Menard, the shelter's behavior technician, said a shift in June last year to using small outdoor playgroups instead of leashed, one-on-one meetings in a small room to evaluate dogs' behavior with other canines has been very beneficial. Conducting the evaluations off-leash and in a larger area is providing the dogs a chance to greet each other in a less stressful way, Ms. Menard said.
"When they're on a leash, they have limited options," she said. "This is more natural."
Enlarge
In 2014, the last full year using the old method, the shelter killed a total of 318 dogs for aggression toward other canines in their behavior evaluations. That fell to 235 throughout 2015 with the change in June, and is fewer again so far this year with 165 killed for dog aggression through October.
The increased use of larger, daily playgroups to let adoptable dogs burn energy and socialize is also helping dogs retain good behavior longer and present better in their kennels when potential adopters walk through, Ms. Menard said.
"They have a blast," she said. "Shelters are stressful. It's stressful for us, and could you imagine not speaking the language? Playgroups definitely help a lot."
While the number of canines transferred to rescues during the same time period has dropped by 8.9 percent, more dogs have been adopted or reunited with their owners. Adoptions have risen 22.1 percent, and returns to owners by 13.1 percent.
"We're getting out in the community and making ourselves known," Ms. Harding said. "People are just more aware that we're here."
The shelter's adoptions should surge after a Black Friday event today with steeply discounted adoption fees.
"Black Friday should get our numbers even higher," Ms. Menard said, adding that previous years have netted several dozen adoptions during the event.
The shelter at 410 S. Erie St. near downtown Toledo will open early for the event from 6 a.m. to noon today and have coffee and doughnuts available. All adoption fees will be $5 from 6 to 8 a.m., $10 from 8 to 10 a.m., and $15 from 10 a.m. to noon. Those adopting a pet also must purchase a $25 dog license as required by state law.
Contact Alexandra Mester: amester@theblade.com, 419-724-6066, or on Twitter @AlexMesterBlade.