ABOUT DOGS PLAYING FOR LIFE​
An Introduction to Dogs Playing for Life
by Founder & CEO, Aimee Sadler
I've dedicated my life to teaching shelters how to let their dogs play. Our canine enrichment, assessment, training and adoption promotion programs help animal welfare organizations help more dogs.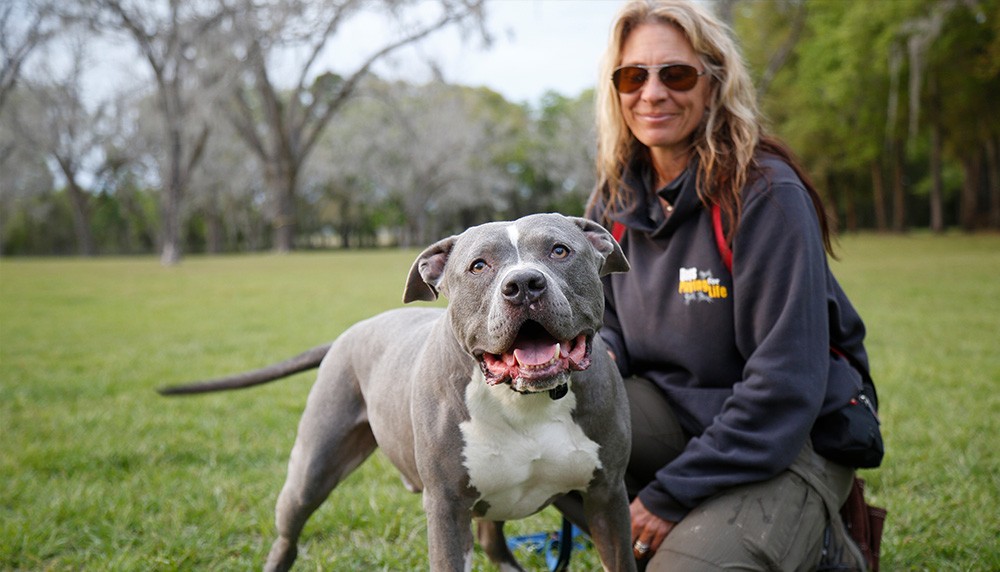 Growing up & Professional Career
I have always been comfortable working with dogs in large groups since I was raised on a farm and we rescued dogs – having as many as 17 at one time.
My animal welfare career began by working with shelter dogs at the municipal shelter in Southampton, NY in 1998. I recognized quickly that efficiency was critical if I were to help the dogs cope better and find families. At that time, I didn't understand how much lifesaving impact could be achieved by simply letting dogs play, but I did recognize that getting twenty dogs out of their kennels in an hour was better than four.
It seemed logical to me that socializing in the yard first would better prepare them for their manners and basic training lessons. They would be able to expend excess energy in a healthy and interactive way that countered the common anxiety and frustration caused by life in a noisy, uncomfortable, and stressful kennel.
"My task was to teach them to behave in an appealing and attractive way for volunteers and adopters. Playgroups quickly became the foundation of this work."
– Aimee Sadler, Founder & CEO
Why Don't All Shelters Let Dogs Play?
To my surprise, letting shelter dogs socialize in playgroups still raises concerns – fear of safety issues, health risks, and bad experiences are still common obstacles. As a result, social isolation has been the industry norm for far too long, resulting in more dogs suffering while sheltered. Simply put, introducing playgroups is in their best interest.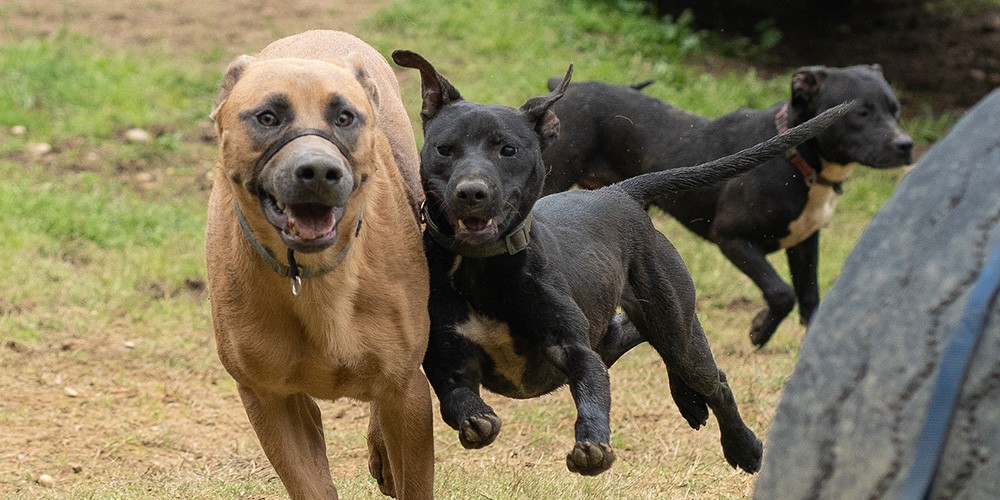 Implementing Playgroups at Shelters
Shelters implementing daily playgroups report more positive outcomes. Happy animals are generally less stressed which results in less disease and extreme behavior. Subsequently, shelter dogs (and the people eager to attend to them) are safer in the process, so more dogs are able to find their way into loving homes.
None of our behavior programs discriminate due to breed or category. Whether it is embracing co-housing or playgroups for dogs, there is no doubt that offering a more natural environment helps shelters to better assess behavior, maintain health, and arrange better adoption matches.
"Our programs stress the consideration of the whole dog – physically, emotionally and behaviorally. We treat all animals as individuals."
– Aimee Sadler, Founder & CEO
By letting shelter dogs play, we have learned a tremendous amount about dog behavior. Specifically, barrier behavior and on-leash behavior are not reliable indicators of a dog's ability, or inability, to be social with another dog. Due to our measured results, we have been asked to share our expertise and work with other leaders in the field such as the ASPCA.
The animal welfare industry is constantly evolving. Shelter dogs are clearly benefiting from the newest trends – euthanasia rates are down and discriminatory practices are being phased out. Dogs Playing for Life is proud to be on the forefront of such momentous change.
Implementing daily playgroups has proven to be a win‐win for people and dogs! And to think that these exciting life-saving outcomes revolve around something so simple and natural; letting dogs be dogs and allowing them to play together.

Aimee Sadler
Founder & CEO
Dogs Playing for Life™
Learn about our vital work in your community, the latest training tips and techniques, and special stories of redemption and love.