Dogs Playing for Life Mentorships continue to cultivate the next generation of animal welfare caretakers, armed with the latest and greatest skills to serve dogs in shelters and prevent them from falling through the cracks! There are two levels of Mentorships:
Level 1: Four days of immersion training in canine playgroups. Mentees work with one of our host shelter's canine population in playgroups twice per day and get to observe and work with a variety of canine behaviors they may encounter at their own shelter.
Level 2:

Four days of immersion training

learning how to utilize playgroups for more selective dogs and an introduction to our next level routines for kenneled dogs. Level 2 Mentorships are more advanced, take place at our very own Canine Center Florida, and are only available to those who have attended a Level 1 Mentorship OR currently participate in DPFL-style playgroups.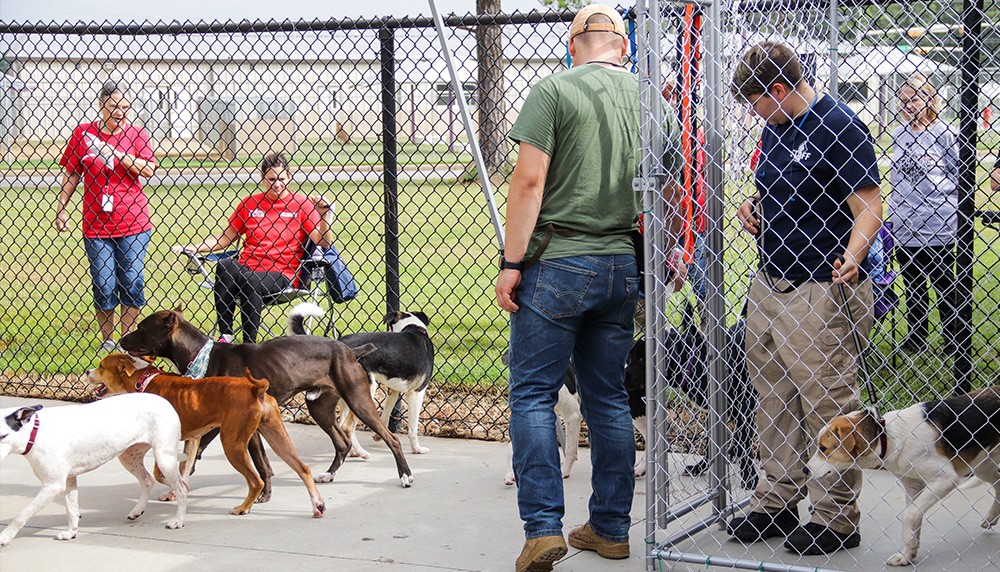 In the past, we focused on creating safety nets for the survival of even the most adoptable companion animals. Now, with even higher volume shelters achieving 90% and greater save rates, shelters need to be equipped to serve the population of dogs that are still being lost.
We can no longer care for animals in kennels "the way we've always done it" because they are at risk of emotional suffering when housed long-term. Shelter caretakers are now needing to expand their skills and adapt to new expectations to help animals cope and thrive. Some dogs, such as adolescents, larger and/or behaviorally challenged dogs are currently trapped in our nation's adoption centers and rescues. While organizations strive to reduce and/or eliminate euthanasia, these animals are at risk of deteriorating unless they get the resources they need!
To help train our shelter staff leaders to combat the problem, Dogs Playing for Life has directly served nearly 300 shelters internationally through playgroup seminars and shelter training program mentorships. Our programming has contributed to the industry-leading, lifesaving performance of multiple open admission shelters maintaining positive outcomes for over 95% of their animals! Supporting shelter dogs in becoming safe and beloved companions is our purpose.
"[After the mentorship,] we started a playgroup program and went from saving 200 dogs a year to 700, and that was the piece that really changed things for the dogs and for [local] rescues." – Kirsten Tourville, Next Stop Home Chicago
Program Overview: Level 1
Level 1 Mentorships are held by Jacksonville Humane Society in Jacksonville, Florida. JHS has run successful behavior programming for many years, from playgroup management to advanced behavior training.
Dogs Playing for Life and host shelters use a balanced training approach and all four quadrants of learning theory to help dogs reach rewardable behavior. The mentorships provide mentees with an unparalleled view of the behavior operations at these shelters.
In addition to learning how to run playgroups, mentees will learn "Fancy Footwork," which includes:
Kennel Routines
Door Routines
Loose Leash Walking
Basic Obedience
Mentorships are open to any shelter staff or volunteers interested in expanding their knowledge. Mentees of all experience levels benefit from the intensive four days of practical training. For those looking to learn the fundamentals of playgroups to those looking to refresh their playgroup skills, mentorships offer something for everyone. After the mentorship, mentees are provided continued support by our staff to help implement newly acquired skills and ideas at their home shelter.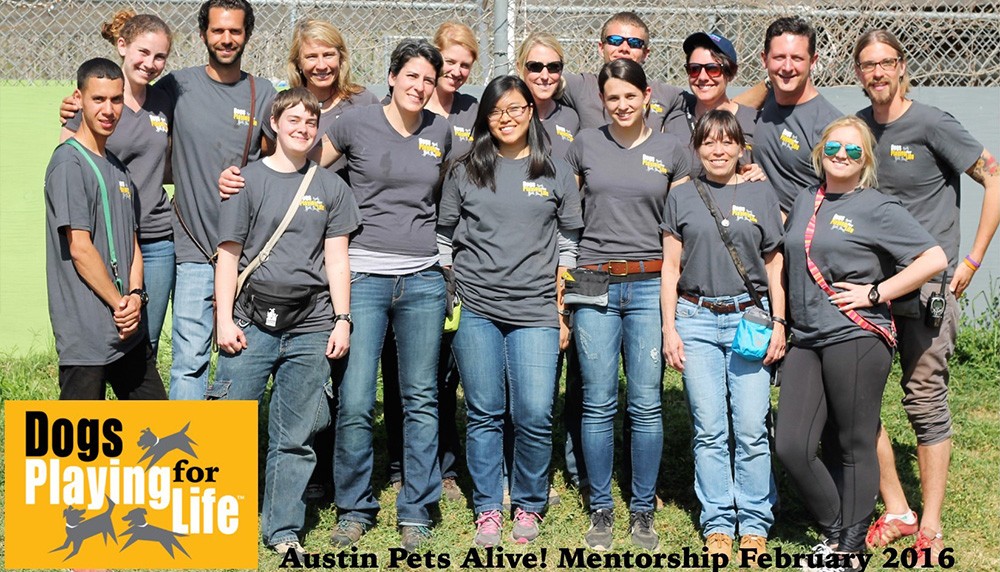 "The mentorship was fantastic! I loved hearing folks 'speak our language' and seeing the same issues we face at our shelter being faced by the mentors. The instructors were terrific. They used just the right amount of gentle guidance for us. They had so many neat tips and tricks to address any variation of problem…I found watching the instructors be calm and let the dogs talk to each other so helpful. I'm excited to be able to give our shelter dogs a chance to PLAY!" – Kay Fellows, Volunteer at SAFE Pet Rescue
Program Overview: Level 2
Level 2 Mentorship offers an opportunity for handlers to experience four immersive days learning how to incorporate behavior modification techniques into playgroups and learning advanced leash work and handling.
Level 2 is more advanced, takes place at our very own Canine Center Florida, and is only available to those who have attended a Level 1 Mentorship OR currently participate in DPFL-style playgroups.
This mentorship benefits handlers and trainers who want to expand their knowledge and ability working in dog-to-dog social situations as well as leash handling techniques to support the dog in offering well-mannered behavior.
Level 2 mentees can expect to take part in:
Advancing dog-to-dog social skills outside of large playgroup sessions
Focused individual work with dogs exhibiting inappropriate social interactions
Techniques for obtaining steering and responsiveness to the handler
Leash handling skills
To advance beyond Loose Leash Walking and incorporate Working Walk, similar to heel position
To decrease the practice of on-leash reactivity
To decrease the practice of redirection
To increase well-mannered behavior on leash
Teaching basic obedience with distance, distraction, and duration
Opportunities for behavior modification techniques