Aimee Sadler: Founder & CEO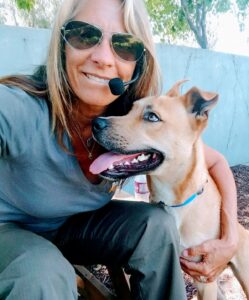 Aimee Sadler is the Founder and CEO of Dogs Playing for Life™…An Enrichment Program for Shelter Dogs Featuring Playgroups. Ms. Sadler is a nationally recognized trainer specializing in behavioral problems. Her techniques have been derived from over thirty years of professional work with multiple species, from dogs to cats, from exotics to marine mammals.
Aimee's childhood passion for animals turned into a career in 1987 at the onset of her apprenticeship to Magic Mountain's dolphin and sea lion show in southern California. From there Aimee was offered a position of leadership at the park's wild animal show where she performed on stage with exotic animals in addition to touring with the creatures to better educate children. From her innate desire to help animals she then took a position with the American Humane Association, responsible for the monitoring of "animal actors". This exposure resulted in her transition as the compound manager of Birds and Animals Unlimited, one of Hollywood's top animal training facilities. Aimee then founded the animal rentals division of Fourth Cub Productions, Inc., where she supplied well-trained animals for numerous television commercials and music videos.
Over the years while Aimee developed her private dog training business, she maintained strong affiliations with rescue organizations. Since 1998, Aimee's main interest has been working with shelter dogs after her private client sent her to the Southampton Animal Shelter to spend her session time working with the their dogs instead of her own. Ever since, Aimee's vision has been to create enrichment and training programs that would prove to be invaluable to the well-being of dogs in shelters everywhere.
Dogs Playing for Life™ seminars and trainings have been provided to more than 250 organizations internationally. Aimee presents consistently at animal welfare and professional dog training conferences, such as HSUS' Animal Expo, Best Friend's Annual Conference, Masters in Behavior Conference, the No Kill Conference and the International Association of Canine Professionals Conference. Aimee's programs have assisted multiple shelters in achieving industry leading success as open admission shelters saving more than 95% of their shelter dogs!
In recognition of her work, Aimee has been honored with the Henry Bergh Leadership Award in 2011 and the Maddie's Fund Hero Award in 2018 in addition to being inducted into the Members Hall of Fame for the International Association of Canine Professionals. From the popularity of the program and the measured results in life-saving, Dogs Playing for Life™ has been featured in the Television Series, 'Shelter Me – New Beginnings' airing on PB and Netflix as well as being the inaugural recipient of the Petco Foundation 'Love in Action Award'. In 2017 DPFL opened its first National Canine Center in Florida to serve as an advanced training and behavior center for unowned dogs needing some extra help prior to placement, and for the purpose of mentoring and cultivating shelter canine trainers.
Aimee currently resides in Longmont, CO, with her husband and their very full family of furry and non-furry beings.
Emily Grossheider: Chief Operations Officer
Emily was born and raised in the San Francisco Bay Area where her love for pets blossomed. After graduating from the University of California, Santa Barbara, Emily accepted a position at a local animal shelter where she had the privilege of leading a team in increasing adoptions by more than 100%-and became hooked by the purposeful work animal sheltering provided.
Following her tenure at DAWG, Emily became the Director of the Santa Ynez Humane Society. In her ongoing efforts to improve the training of her staff and ultimately enrich the lives of the animals in her charge, Emily met the Dogs Playing for Life team, which she enthusiastically joined as Director of Development in 2015. Since then, Emily has earned accreditation as a Certified Animal Welfare Administrator (CAWA), been promoted to Chief Operations Officer at DPFL, and has earned a Masters Degree in Public Administration, with an emphasis on nonprofit management.
Emily lives in Santa Barbara, California. In her free time, she can be found on the beach or teaching her 4 nieces and nephew how to beg their mothers for (another) rescue puppy.
Aaron Caldwell: Director of Shelter Programming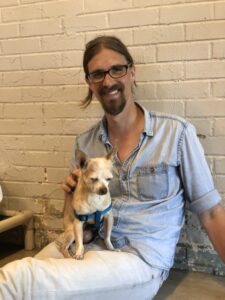 Aaron Caldwell began his work with Austin Pets Alive! in February of 2011. After spending over a year with the organization as a Lead Adoption Counselor, Aaron was given the opportunity and privilege to join the behavior team as the Dog Behavior Program Assistant Manager. Under the tutelage and guidance of Mike Kaviani, a former leader at Dogs Playing for Life, Aaron worked as a playgroup facilitator, adoption/foster follow up coordinator/trainer, and spent time helping with the behavior modification and rehabilitation of APA!'s shelter population. In the summer of 2016, Aaron took on the role of Dog Behavior Program Co-Manager, and spent his time collaborating as much as possible to keep Austin a lifesaving city. In December of 2020, Aaron transition into a role at AmPA! and utilized his knowledge to help shelters across the country to achieve greater lifesaving in their own communities. In 2021, Aaron joined the DPFL team as Director of Shelter Programming where he mentors shelters in quality of life and lifesaving programs centered around playgroups!
Ally Tio: Director of Outreach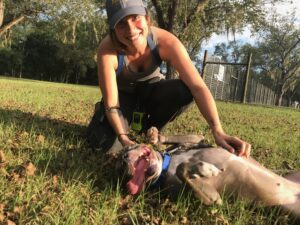 Ally Tio was born and raised in Wisconsin, surrounded by a variety of pets and livestock since before she can remember. She began volunteering at shelters in Milwaukee and was instantly aware of the impact needing to be made for these dogs. She then moved to Austin, TX, and began volunteering at Austin Pets Alive! before quickly accepting a position there. Austin Pets Alive! opened up a whole new world of behavior modification and enrichment that intrigued Ally. After a year, Ally accepted the Playgroup Coordinator position and worked diligently to expand the program. Her natural comfort around large groups of dogs allowed her to progress the population at APA! quickly. After travelling to Dogs Playing For Life's Canine Center Florida and working as a handler for a few days, Ally was inspired to continue her training with DPFL. Now Director of Outreach, Ally is excited to continue to learn and share her knowledge with others! She is inspired by what her own dog has overcome behaviorally, and hopes to be a voice for those dogs in need.
Lauren Revier: Director of Research & Programs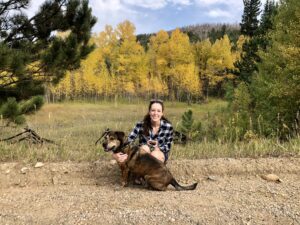 Lauren Revier developed a deep love for dogs at a young age, but her formal introduction to animal welfare came in 2013 when she started volunteering at Longmont Humane Society. She was so drawn to the dogs, the people, and the work that she applied for a job and began facilitating animal intakes and adoptions while still volunteering her time walking and learning to handle more challenging dogs. From 2014 to 2016, Lauren held the position of Public Training Program Coordinator, overseeing the public dog training and adoption follow-up programs. She left this position in 2016 but continues to teach public training classes every week. Upon leaving her full-time job at Longmont Humane Society, Lauren worked for four years at a criminal justice consulting firm where she conducted research, administered surveys, and wrote reports and implementation guides. Lauren was thrilled to return to animal welfare in 2019 when she joined DPFL as its Shelter Support Coordinator. She holds a master's degree in Criminology, Law, and Society and lives in Fort Collins, Colorado, with her husband and their three dogs. As Director of Research and Programs, Lauren is responsible for measuring DPFL's impact and ensuring its programs are continually improving. She loves getting to connect with shelter staff, volunteers, and adopters from all over the country.
Jessica Johnson: Education Manager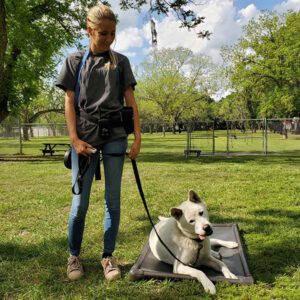 Jessica was born and raised in the small town of Moultrie, Georgia, where she discovered her passion for animals as a child while routinely feeding and checking up on the many neighborhood strays. She recognized that this was what she wanted to dedicate her life to and at her earliest opportunity, in 2015, she began a work-study program while attending high school. She worked and volunteered at the local shelter, discovering she had natural ability for bonding with the dogs and identifying great matches for adopters. After graduating high school in 2016, she immediately took a full-time position at another humane society in Thomasville, Georgia, where she started greatly expanding her knowledge of behavior and enrichment for shelter animals. She worked closely with the shelter's behavior consultant to develop a system for creating and maintaining behavior personality profiles, as well as increasing and varying the enrichment given to the animals on a daily basis. She eventually moved over to the intake/isolation area of the shelter where she learned how to provide medical care, initial assessments, and deal with the more difficult dogs, eventually becoming the intake manager. While in this role, she helped implement new protocols for care and treatment of the animals, and she also recognized the need for enrichment and love that a dog requires upon intake to create a positive association with a shelter. In late 2019, she attended a DPFL seminar and was excited by the passion the team had for providing loving care for Every Dog, Every Day, and she quickly applied for a position. At the start of 2020, she joined the DPFL team at the Canine Center Florida and is expanding her knowledge and understanding of dog behavior on a daily basis.
Chris Rheaume: Training & Behavior Manager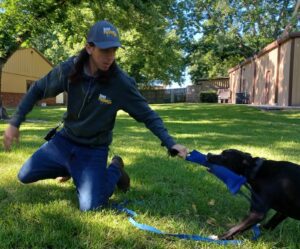 Chris was 'bitten' by the canine training bug at a young age. In fact, according to Chris, he was literally bitten by just about every dog in his neighborhood growing up. This led to an interest in understanding dogs better as a whole while recognizing they're each an individual too. With a passion for those high-energy, high-drive dogs that typically struggle the most in shelters, Chris understands the importance of outlets and how they can help dogs learn better and improve their quality of life in the process!
Laura Leitch: Lead Trainer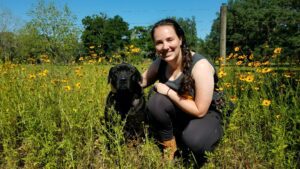 Laura always loved animals and has ridden horses most of her life. Her first word was cat and she begged her parents for a pet until they finally gave in at age 3. She always knew she wanted to work with animals, but she wasn't aware of the possibilities until she began volunteering at a shelter. Laura has been involved in animal welfare since graduating college in 2014. She worked as everything from a kennel tech to an adoption and foster manager before becoming a private trainer to keep dogs out of the shelter all together. Ultimately, Laura missed shelter dogs and joined DPFL to merge the training and sheltering worlds. Laura lives in Atlanta with too many cats and three horses that she shows in the Adult Amateur Hunter division. She also holds a master's degree in nonprofit management.
Patrick Smith: Lead Trainer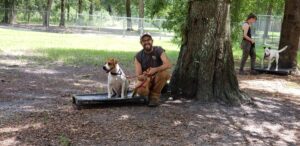 Patrick Smith is a New Englander who made his way down to Florida to spend time with some more interesting dogs than he knew at the dog daycares up north. He's got a hound companion he enjoys hiking and traveling with. His favorite parts of the job are finding creative ways to make progress when a dog is "stuck," and seeing dogs graduate from CCF.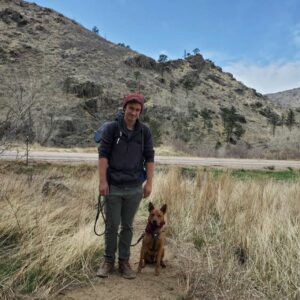 Max grew up with dogs and pets of all kinds his entire life. When he was 14, he began volunteering at the Longmont Humane Society, and began working as an Animal Care Technician as soon as he turned 18. After a year Max transitioned to the Training and Behavior Team at the humane society. During his 7 years working on this team, Max was introduced to both his own dog Petzl and to Dogs Playing For Life and transitioned to working as an employee for them after getting his associate's degree in Social Psychology.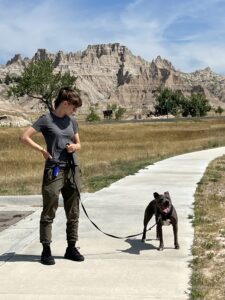 Ever since observing DPFL conducting playgroups at her local shelter in Seattle in 2019, Sophie has been following DPFL's work closely and dreaming of doing what they do. Sophie began her dog career working full-time at a shelter where she developed a passion for supporting dogs struggling with behavioral issues. While she loved caring for and getting to know each of the dogs individually, she longed to have more of a direct impact on dogs in need. Intent on learning more about dog behavior, Sophie moved on from dog care to begin training and learning the skills that would eventually enable her to work directly with the dogs she cares most about:
behaviorally challenging dogs who often don't make it out of the shelter.
After going through an apprenticeship with a local training organization, Sophie started out
teaching obedience classes and conducting private lessons, gaining valuable experience working
with a wide variety of dogs. The next part of Sophie's training journey led her to work with
board and train dogs who were struggling with more substantial issues. She was thrilled to finally
be working with more challenging behaviors which prepared her to pursue her goal to work
directly with the kinds of dogs like the ones at the Canine Center Florida. Eventually, the amount of distance between Seattle and Florida was no longer an excuse to keep Sophie from pursuing her dream of working at CCF. After reaching out to the team and traveling to CCF for the interview process, she knew that was where she was meant to be. Sophie is thrilled to be a handler at CCF and feels so fortunate to be a part of Dogs Playing for Life, an organization she is so passionate about!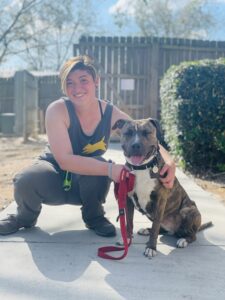 Nik (they/them) is originally from South Florida. They have a mixed breed dog, a cat and a rescue horse. Nik used to work in cosmetology and as a stable hand before working with shelter dogs. Behavior modification advancement and dog training inspired them to work for DPFL!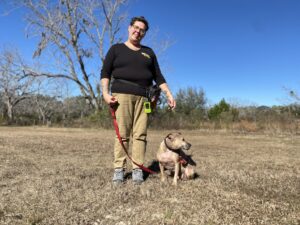 Ashley has been working in animal rescue for five years and came to DPFL to learn more about dogs with behavior challenges. Her favorite thing to do with the dogs is teaching them new things– from the basics like "sit" and "place" to complex tricks like picking something up off the ground and handing it to a person. She loves hearing from shadow students and mentees about how DPFL programming inspires them to keep doing the work and to help dogs at their home shelters. Ashley has two dogs at home and lives in Alabama.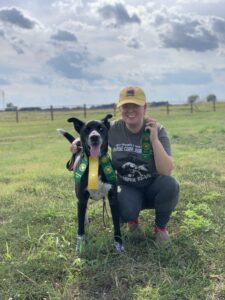 Danielle (Dani) Hill has always had a fondness for dogs, but it wasn't until she adopted her heeler mix, Blue, that she got into the training side of dogs. In June of 2020, she started working at a boarding kennel in Texas that did a variety of training. Since then, she and Blue have attempted and trained for different sports including Scent Work, Barn Hunt, AKC Fast CAT and a pitiful attempt at agility training. Her true passion is with Scent Work and how teaching dogs how to use their nose can increase confidence! Dani first heard about Dogs Playing for Life when she went on an excursion through the IACP conference, where she won a scholarship. She really enjoyed visiting with the team, and applied to CCF shortly after. She resides in Texas with her three dogs and is very grateful for the opportunity that DPFL has given her to learn about behavior modification.
Kodi Sadler: Director of Los Angeles Programming
Kodi Sadler is proud to be one of Dogs Playing for Life's Lead Instructors providing playgroup training to shelters internationally. His love of all dogs and his comfort working with large groups has been a prevalent part of his life since before he can remember. As Aimee's oldest son, his earliest memories include waddling around amidst the ever-changing large pack of owned and rescued dogs that cohabited with the Sadlers while in training. Kodi's formal career in animal welfare began at the age of 17 when he started volunteering at the Longmont Humane Society. At age 18 he was invited to join the DPFL Team as an Instructor's Assistant and fell in love with the work, inspiring him to complete his high school through a work-study. While Kodi now travels full time teaching for DPFL, he considers himself to be a student of animal welfare. With the road as his campus and the dogs as his teachers, Kodi intends to continue learning as much as he can about the work that will be a part of his life forever. Kodi is passionate about playgroups and the positive impact they have on animals and people.
Stephen Davis: Canine Enrichment Coordinator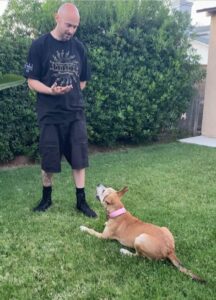 Stephen Davis was born and raised in the South Bay area near Los Angeles, CA. He is a lifelong lover of animals with a specific connection to canines. When Stephen learned that DPFL for the first time in its history, was hiring a permanent enrichment coordinator inside a Los Angeles shelter, he knew he had to apply for the position. In 1995, he was sentenced to Life Without the possibility of Parole (LWOP). Thankfully in 2018 after 23 years of incarceration, with the help of his wife Adrienne and backed by community and unwavering family support, he was commuted by Governor Brown and re-sentenced to 25 to life, giving him the opportunity to be considered for parole. While still incarcerated, in 2019 he became a trainer with Paws for Life K9 rescue, where he attended a seminar hosted by Dogs Playing for Life. During this time, he learned of DPFL's philosophy of playgroup enrichment. In June of 2022, Stephen paroled after 27 years, and hit the ground running with Paws for Life which provided him with a job within his first month home. Now proudly representing DPFL, through socialization & playgroup enrichment, Stephen can help give shelter dogs a second chance a life – just as he himself has been given. He is very proud to be the first hire for this program and is looking to the future in ways to strengthen it and help continue its success.
Stephanie Diaz: Canine Enrichment Coordinator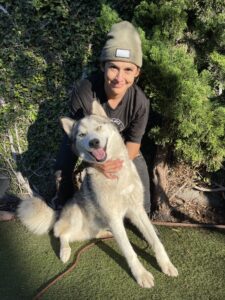 Stephanie Diaz discovered her love for animals while working at the Santa Barbara Zoo in 2008. It was the animals' unique behaviors that captivated her curiosity, which further extended to her fondness of canines. She was set on starting her career working with canines full-time and started working at doggy daycares, had steady pet sitting gigs, and eventually taught basic training skills from 2010-2019. Stephanie eventually moved back to her hometown of McAllen, TX, and in 2020 she once again had the opportunity to work with canines at her local animal shelter. Initially starting as an animal care technician, she was later elected to head their pilot enrichment program with the goal of leading DPFL-style playgroups 7 days a week. One year later and the program turned into a department of 3 Canine Enrichment Coordinators, with Stephanie leading the team. She is now the newest Enrichment Coordinator with DPFL at the South Los Angeles Chesterfield Animal Shelter, and is looking forward to growing her knowledge of canine behavior. In her spare time, Stephanie enjoys the outdoors and trying new things.
Canine Center Florida Team
Yancey Cushman: Operations Manager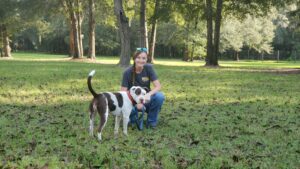 Yancey Cushman was raised with large dogs and horses and has had every kind of animal possible. She started training dogs at a young age and, throughout her middle and high school years, she volunteered at a local humane society training dogs and assisting with adoptions. Yancey spent more than 9 years as a vet tech before joining the DPFL family in 2021. Her favorite part of the job is getting to watch the dogs thrive in CCF's wonderful program and getting to see what these "Diamonds in the Ruff" can become!
Kian Sadler: Facilities Manager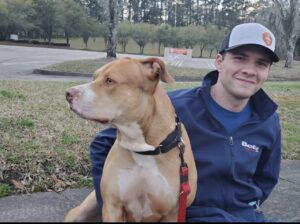 Kian Rain Sadler is currently the Facilities Manager for Dogs Playing For Life. Kian was born in Woodland Hills, California and over the years moved around but spent most of his life in Colorado, which he considers home. Kian has a background in automotive repair, which comes in handy when maintaining all the company vehicles at CCF. Aside from the vehicle maintenance, Kian spends his days at CCF building various things that range from dog-related items to customizations or updates to one of the multiple buildings on site. Kian enjoys working with the contractors and staff at CCF to improve the lives of the animals that pass through.
Amber Dubrule: Canine Enrichment Specialist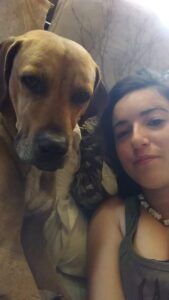 Amber is originally from Panama City and moved to Lake City to take care of her grandpa. She learned about DPFL through her brother, who worked at CCF at the time. Amber loves her job! Amber lives with her two dogs Faith, a white pit, and Marley, a miniature pit, her cat, Spooky, and her ferret, Swiper! When she's not working, Amber loves watching her fiancé race on weekends, hunting, fishing, watching scary movies, and playing with her animals!
Shannon Sloan: Canine Care Attendant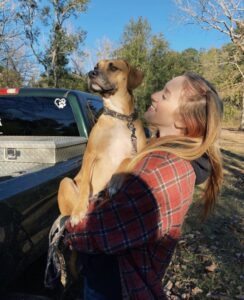 Shannon Sloan is originally from Tallahassee, Florida, but grew up in Swanton, Vermont. After graduation, she wanted to be closer to family and hopefully start a career working with dogs, as she has always had a love for animals. When Shannon's not at work, she's home spending time with her pup, Brantley. Shannon is hoping to learn more and further her education and knowledge about dogs.
Dawn Beazlie: Executive Assistant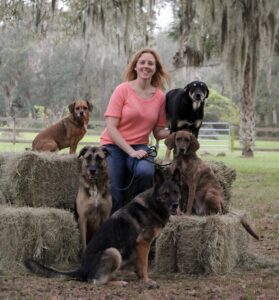 Dawn was born and raised in Illinois, where she graduated from the University of Illinois. There she graduated with degrees in Psychology and Human Services. She has always had a passion for understanding behavior. Her curiosity remains in the study of behavior but has evolved to work with dogs. This curiosity has led her to many years of volunteering with local rescues & working with dogs as a trainer, vet tech, and boarding kennel owner. Her involvement with DPFL began with webinars and participating in the Shadow Program. After those programs, she knew she wanted to remain involved with DPFL. Her current role in the organization is Executive Assistant. Dawn now lives in Florida with her husband and two daughters on a small hobby farm with many rescue animals, including dogs, cats, pigs, and horses, to just list a few.